About Us- Celebrating 50 Years 1973-2023
ELPO Law is the largest full-service law firm in our region and deeply ingrained in Western Kentucky. Our attorneys serve on non-profits' boards, volunteer in schools, donate to charitable causes and coach soccer teams. Many are raising their families here. This is our home, and we want to contribute, both by offering sound legal advice to those who are building Kentucky into a better bluegrass and by lending volunteer support to the organizations that make this a great place to live.
If you need to create an estate plan, handle an immigration issue, file a personal injury case or get assistance with a complicated business matter, we can help.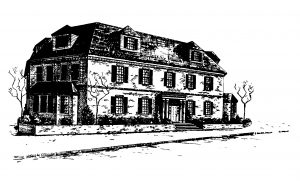 The History of ELPO Law:
In 1973, four attorneys came together to form English, Lucas, Priest & Owsley, LLP, a new law firm in Bowling Green, Ky. Charles E. English, James Lucas and Michael Owsley worked together at another firm, and they asked Whayne C. Priest Jr. to join with them to form ELPO. Charles English, Michael Owsley and Whayne Priest are still with the firm today. Jim Lucas passed away in 2004.
Whayne Priest has a strong background in municipal law as he served as the city solicitor for eight years. He has continued to handle cases that involve local government throughout his career, including his work with the Inter-modal Transportation Authority, the organization that oversees the management of the Kentucky Transpark, a 1,200-acre high-tech business park in Bowling Green. Michael Owsley began working with several school districts throughout Kentucky, and was joined in his education law practice work by Regina Jackson, who came to ELPO in 1993. Other associates also assist in the area of education law, as ELPO now counts among its clients more than 20 school districts. Charles English handles business law cases, estate cases and many of the firm's appellate cases. Mr. English also served as president of the Kentucky Bar Association, as did his son, Charles E. "Buzz" English, who is also an attorney at ELPO.
The firm added its first associate, Keith Carwell, in 1974. Mr. Carwell is still with the firm. Other attorneys joined over time, expanding the reach of the firm and the types of cases the firm handles.
For the firm's first 20 years, Michael Owsley served as the managing partner of ELPO, guiding its business practices and growth, including hiring new associates and support staff. Regina Jackson took over this position in 2001, and under her tenure, the firm added a firm administrator, Travis Armstrong, in 2005. Bob Young served as managing partner from 2007 to 2010, and D. Gaines Penn became managing partner in January 2011. Bob Young returned as Managing Partner in January 2016 and continues to serve as Managing Partner today.
English, Lucas, Priest & Owsley, LLP has long contributed to the community in many ways. As a business, the firm contributes significantly to many community and some statewide causes. ELPO also contributes to the local economy as an employer, with 60+ people including attorneys and support staff working for the firm. In 1986, the firm built its current building at 1101 College Street in downtown Bowling Green.
Diversity & Inclusion
Our firm is deeply committed to helping diversify the legal profession; we are working to do all we can to ensure our firm reflects the community around us. Our firm has a Diversity Committee, which actively looks for ways to support diversity in our profession as well as in our community as a whole.
We adopted the following Diversity Mission Statement that drives our efforts:
In all that we do, English, Lucas, Priest & Owsley, LLP does not discriminate on the basis of age, race, religion, national origin, gender, sexual orientation, ethnicity, disability or veteran status. Our goal is to create a law firm that reflects the diversity in our community and helps our clients feel at home with us. We work diligently to reach many different populations with our services and in our hiring and recruitment efforts, and always ensure that any type of discrimination is never tolerated. We see value in hiring diverse attorneys and team members, and believe that doing so increases our value to our community.
This mission statement extends the legacy of several leaders in our firm who have sought ways to ensure that all are welcome in the legal profession.
During his term at Kentucky Bar Association President, Buzz English, a partner at ELPO, spear-headed the KBA's re-commitment to the Kentucky Legal Education Opportunity (KLEO) program. The program provides $5,000 scholarships to 15 first-year law students who qualify as diverse. Students must be enrolled in Kentucky law schools, and must also attend a two-week summer residential program, which is designed as a pre-law preparatory program. When Buzz became KBA president in July 2009, the KLEO program was underfunded and in danger of ending. He worked diligently to raise funds for its continuation – which it does to this day. Buzz is also a regular attendee of the KBA's Diversity and Inclusion Summit, and he recently joined the ABA's Legal Opportunity Scholarship Fund Fundraising Committee.
Bob Young, who serves as managing partner of our firm, chaired the American Bar Association Law Practice Division's diversity committee, and continues his support of the ABA's efforts to diversify the profession. Bob leads our diversity efforts today, creating a diversity committee and redoubling our efforts to find candidates of all types for open positions at our firm.
Led by attorney Rebecca Simpson, our firm has developed a high school mentoring program called The Diversity Pipeline Project to encourage diverse students to enter the field of law. The program was created in the fall of the 2017/18 school year to help mentor students who would like to enter the field of law, with a particular focus on underrepresented and diverse populations. The program works to bring a variety of legal professions into high school classrooms, making representatives from the legal field available to discuss what educational paths students should pursue if they would like to pursue law as a career. The program has increased its scope since its creation to also provide opportunities for insight into careers in law enforcement as well as those available through the 911 Dispatch Office, Warren County Regional Jail, etc.
Former ELPO team member Francisco Serrano helped organize an Immigration Law Forum in 2017. Our firm supported the forum, and attorneys Brett Reynolds and Heather Coleman Brooks served on a panel at the event.
We are committed to creating a diverse firm because Southcentral Kentucky is diverse — more so than anyone from the outside would assume. One organization we credit with diversifying our community is the International Center of Kentucky, which is headquartered in Bowling Green. The organization serves as a refugee resettlement center, assisting with their assimilation into community life by providing employment, educational, housing, and other social services. Oysara Demir, a team member at our firm, came to Bowling Green through the International Center and came to work for ELPO after studying to be a paralegal at Western Kentucky University. She was born in Uzbekistan and immigrated to the U.S. from Russia, and is now a crucial team member.
The presence of Western Kentucky University greatly enriches our community in many ways. The University welcomes students, researchers and faculty to Western Kentucky University from varied backgrounds. They come here to learn and teach, and our hope is that they feel as welcome and accepted here.
Companies bring workers here for the many businesses that have operations around the world. We assist businesses with headquarters in China and Japan who are making components for auto manufacturers located in Kentucky, including the Corvette assembly plant, which is located here in Bowling Green, and Toyota, which is located in Georgetown, Kentucky.
We are the leading law firm in Western Kentucky that handles immigration law, assisting businesses with bringing foreign workers and their families to our community. We hope that everyone feels welcome to stay and enrich our community with each person's own unique presence and talents.
Global Reach

English, Lucas, Priest & Owsley, LLP is a member of Meritas, the premier global alliance of independent law firms. Meritas firms are able to offer a full range of legal services to meet every client need.
ELPO Law has 32 lawyers based in Bowling Green, Ky and provides a full range of legal services to our clients with experienced attorneys at cost-effective rates. Through our affiliation with Meritas, ELPO Law is able to broaden our ability to provide comprehensive legal services to our clients wherever their business interests may be because we can connect with quality firms that have strong ties to their local civic, business and legal communities in virtually every major market in the United States and across the globe. With 191 member firms in 96 countries, Meritas covers more global markets than any other national law firm and most legal networks.
As an invitation-only legal alliance, Meritas firms uphold the highest standards of legal advice and client service. Meritas firms share expertise, bench strength, local market knowledge, connections, and geographic coverage to represent clients most effectively. Recognizing that crucial legal matters come in all sizes and shapes, Meritas member firms approach each matter with a sense of urgency and collaboration, because what matters to you matters to all of us.
To learn more visit www.meritas.org.
Law Firm Growth Program
ELPO Law would like to invite you to join its Law Firm Growth Program. While our attorneys have been partnering with other firms for 50 years, this program has now been formalized by ELPO Law to assist other firms and solo practitioners in expanding your practice areas to provide increased services to your clients, while also allowing you to increase revenue.
As part of this program, ELPO Law is able to provide resources and expertise to your firm so that you can offer your clients a more robust, well-rounded portfolio of legal service offerings beyond what your firm is able to handle on its own.
Expand Your Firm's Practice With One Phone Call
ELPO Law has a proven record of achieving outstanding results for our clients in cases ranging from personal injury to environmental law to estate planning, and more. Our attorneys concentrate on a few areas of law each and then combine their years of experience to create a highly successful, full service firm at ELPO Law.
Because of our reputation within the legal community, a large number of our cases are referred to us by other lawyers. Many of our referrals are received from lawyers who do not handle cases in a particular practice area or contingent fee cases.
We also receive referrals from other  law firms that do not have the time, expertise, or capital resources to properly pursue particular cases.
We welcome the opportunity to co-counsel, joint venture, or even assume clients' representation on behalf of fellow attorneys. We are happy to have participation from the referring attorney in the case, or we can take care of everything for you – completely up to you!
Helping You to Help Your Clients
ELPO Law is honored to accept referrals from all attorneys, offering our skills and resources to benefit both your client and your professional reputation. As an experienced law firm in a number of practice areas, ELPO Law routinely works with fellow attorneys to provide their clients with the quality representation they need.
If you have a client or case that you would like to discuss with us or consider referring to us, please contact us anytime. Our law firm considers a client referral the highest compliment one lawyer or law firm can pay to another.
Referrals can be made either shortly after an incident occurs, during litigation, and every step in between. Of course, every potential referral is promptly considered by us on a case-by-case basis.
Co-Counsel and Referral Fees
ELPO Law can help you generate a source of income where you may not have the experience, expertise, capital or desire to take on a case due to your current case load.
As outlined in SCR 3.130 and KBA E-55, we will work with you regarding the division of attorney fees. Your clients have come to you because they know and trust you.  These Rules allow for you to co-counsel on a case with other lawyers and divide appropriate fees to those referring lawyers. The client's prior consent is required.
Reasons You May Consider for Referring a Case:
Your firm does not handle that particular kind of case.
You do not have the staffing or resources to properly devote to the case.
You are concerned about the financial or time demands the case will put on your practice.
You need a second pair of eyes on a particularly complex case.
You prefer to collaborate with another lawyer to gain more experience in a certain type of case.
You do not represent clients with the type of case presented.
You currently practice law in a different state or are not admitted to the Kentucky/ Tennessee bar.
Whatever the reason, if you do not like the thought of turning away a potential client, but you still want the client to have the quality representation he or she deserves, we are here to work with you as a supportive part of your team to ensure that your clients receive the best legal representation possible.
If you are an attorney and you are interested in our Law Firm Growth Program, please contact us today at 270-781-6500 or inquiry@elpolaw.com.