ELPO Attorney Kyle Roby Wins $1.2 Million Settlement in Truck Accident for Client
English Lucas Priest and Owsley, LLP
Anthony Rifkin's life was changed forever when he was involved in a devastating tractor trailer accident. Mr. Rifkin was a professional over the road truck driver; and despite his many years of experience in driving commercial motor vehicles, Mr. Rifkin found himself in a position in which there was no escaping what was about to happen.
On July 21, 2021, at approximately 3:49 p.m., Mr. Rifkin was driving his 2007 Mac Semi Tractor Trailer southbound on I-71. As he was passing a 2019 Ford Recreational Vehicle (RV), the driver of the RV attempted to merge into the lane Mr. Rifkin was traveling. As a result, the RV struck Mr. Rifkin's Mac truck. Mr. Rifkin was able to maintain control of his vehicle to not cause a roll over collision. However, the result of the collision caused Mr. Rifkin catastrophic damage.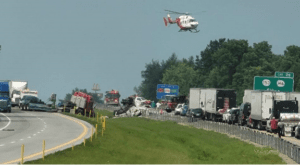 Trooper Samu with the Kentucky State Police investigated the collision. On behalf of Mr. Rifkin, English, Lucas, Priest & Owsley, LLP (ELPO) employed the services of Joey Stidham with Stidham Reconstruction and Investigation (SRI) to reconstruct the accident. Using drones and other technology, Mr. Stidham successfully reconstructed the accident collision and as a result, we were able to prove that the driver of the RV was at-fault in this wreck.
Often, we represent people who have been injured due to a negligent truck driver. In this case, Mr. Rifkin's experience in driving a commercial motor vehicle and the counter-accident measures he undertook more than likely not only saved his life but saved the lives of others around him.
Mr. Rifkin underwent multiple surgeries after the accident, including an ACL reconstruction and multi-level discectomy and fusion of his neck. He is continuing treatment through the Clarksville and Nashville VA clinics for other injuries sustained. Unfortunately, Mr. Rifkin has permanent physical injuries and impairments that prevent him from returning as a truck driver for the foreseeable future.
"This accident was entirely preventable" says ELPO Law attorney, Kyle Roby. "We are pleased that those who were at fault agreed to settle this case so that Mr. Rifkin did not have to endure a lengthy trial or further proceedings in this matter. While the amount of money he received may seem substantial, it pales in comparison to the quality of life and ability to earn income that Mr. Rifkin has lost. We were honored that Mr. Rifkin chose ELPO to represent him in this matter."
Following an accident, it is important to seek legal advice as soon as possible. If your insurance or another party's insurance company approaches you and asks you to sign paperwork, do not do so without first consulting with an attorney. You want to be sure that all your expenses are covered, and an experienced attorney can help you receive all the compensation you deserve. Contact attorney Kyle Roby, at (270) 781-6500 or kroby@elpolaw.com for a free consultation.